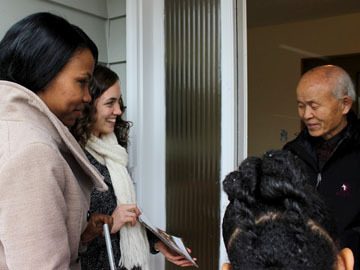 At just one website, you can share the gospel with people of all kinds of languages. Find Bible studies, radio and TV programs, pamphlets and health presentations, the Jesus video, entire books, Bible study lessons, and much more in over 150 languages!
Explore the website now:  MyLanguageMyLife.com
Order cards to share this website
For as little as half a penny each at Priceless Gift Catalog or call ASAP Ministries at 1-269-471-3026. Special order with a local phone number on the back.
Plant seeds for an eternal harvest with this little card.
Use this 1-minute video to promote this resource at church or on your Facebook page.


Learn more about this great tool that you can share with people of pretty much any language that you will meet on the street, in a taxi, or on a plane.
Go directly to MyLanguageMyLife.com
---
PODCAST: "MY TINIEST TRAVEL COMPANIONS"
Having problems viewing this podcast? Try using Youtube: Click Here
Go directly to MyLanguageMyLife.com
Please help us gather quality materials for the languages that are not listed here yet or have just a few resources. We are interested in any pamphlets, books, Bible studies, and audio/visual materials that you think can be helpful for evangelism, Christian growth, and practical areas that meet real needs. If it is online, just give us the link. If hard copy has to be ordered, please provide us the contact information for ordering. You can tell us by contacting us!
Order MyLanguageMyLife.com cards now!
---
The North American Division of Seventh-day Adventists (NAD) has placed the needs of emerging immigrant populations as a high priority. Indeed it is one of six building blocks that are being emphasized at this time.
Elder Ernest Castillo is a Vice President of the NAD. He directs the Multilingual Ministries department and has been a great support of the Reach the World Next Door project. Visit Multilingual Ministries to learn more about their services and to access the websites of Adventist Refugee and Immigrant Ministries (ARIM), Asian-Pacific Ministries, Esperanza TV, Greek Ministries, Hispanic Ministries, Jewish Ministries, Muslim Ministries, Zimbabwean Ministry, and Yugoslavian Ministry.