Train together IN a SMALL GROUP
Learn more about the 13-Lesson Training. Gather friends and family together to grow and serve refugees, immigrants, and international students. Enroll now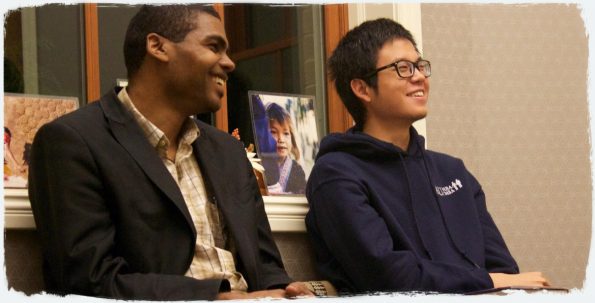 TRAIN IN HOUSTON, TEXAS
Learn what's happening with Reach the World Next Door in Houston, Texas. If you live in Houston, get access to personal coaching. Request Pastor Scott Griswold for a training event.
presentationS and materials By scott griswold
Sanitizing the Sanctuary. Jesus cleansed the temple to make it possible for Greeks to worship God. Explore in this sermon how we can follow in His footsteps, as He cleanses the heavenly sanctuary and makes our earthly temples a haven for the "stranger."
The Cross and World Religions. Learn how to share the beauty of Jesus' death with people of various religions and backgrounds. Use the password 9s*31Dn? to enter this recorded Zoom Meeting. Training starts at 1:32. 
Isaiah 58's Unusual Sacrifice and Last Chance Glory. Discover in this ASI seminar more of the beauty that will flood the world before Jesus returns and how you can be part of it.
Reach the World Next Door. Enjoy a short overview of God's strategic plan in sending people from around the world and what we can do to join Him.
End-Time Cross-Cultural Missions. Listen as Pastor Scott Griswold and Dee Casper lead a six-part seminar at GYC.
El Dios De Los Inmigrantes. Sermon on Reach the World Next Door translated into Spanish by Pastor Enoc Garcia.
Jesus Understands. Book for children who have been through difficulty and trauma.
You are Not Alone Video adaptation of the book Jesus Understands.
Nos estás solo Masterizado Video adaptation of the book Jesus Understands in Spanish.
Reaching and Winning Buddhists Book available for purchase.
Buddhism: Stumbling Blocks and Stepping Stones Written by Dr. Paul Dybdahl and Scott Griswold
ADDITIONAL TRAINING OPPORTUNITIES
Urban Centers of Influence Many excellent curricula for city ministry, ideas for getting started and financial assistance for new projects too. 
Bible Worker & Laity Training (2016) by Pastor Louis Torres