Train and gain continued education credits
Learn more about the 13-Lesson Training. Gather friends and family together to grow and serve refugees, immigrants, and international students.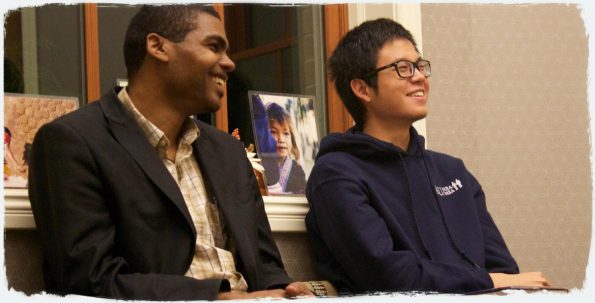 Cross-Cultural Training Resources
If you have purchased a hard copy from ASAP Ministries, or you want to do it all online, here is your access to all the video and written content for the Reach the World Next Door Cross-Cultural Training. Begin your training today!
TRAIN IN HOUSTON, TEXAS
Learn what's happening with Reach the World Next Door in Houston, Texas. If you live in Houston, get access to personal coaching. Request Pastor Scott Griswold for a training event.
Additional presentationS and materials By scott griswold
Four Steps for Witnessing to Anyone. Explore Jesus' approach to sharing God's love and truth with people from other world religions. Mentone, California, 2021.
Sanitizing the Sanctuary. Jesus cleansed the temple to make it possible for Greeks to worship God. Explore in this sermon how we can follow in His footsteps, as He cleanses the heavenly sanctuary and makes our earthly temples a haven for the "stranger."
The Cross and World Religions. Learn how to share the beauty of Jesus' death with people of various religions and backgrounds. Use the password 9s*31Dn? to enter this recorded Zoom Meeting. Training starts at 1:32. 
Isaiah 58's Unusual Sacrifice and Last Chance Glory. Discover in this ASI seminar more of the beauty that will flood the world before Jesus returns and how you can be part of it.
Reach the World Next Door. Enjoy a short overview of God's strategic plan in sending people from around the world and what we can do to join Him.
Cleansing the Sanctuary for the World Next Door. Explore the connections between Jesus cleansing the courtyard of the Gentiles and the end-time cleansing of the heavenly sanctuary for the sake of the stranger in our midst.
Friendship Evangelism. Here are some questions and quotes that you can do with your family or church group to grow in confidence in your witnessing. PPT and Keynote.
evangelism TRAINING OPPORTUNITIES
Amazing Facts Center of Evangelism (AFCOE)
Bible Worker & Laity Training (2016) by Pastor Louis Torres
Hartland - Online Missionary Training Program
SOULS (Soul-Winning and Leadership Training)
Training in Health Ministry
Eden Valley School of Medical Missionary Evangelism
The Lay Institute for Global Health Training (LIGHT)
The MASTER's Program - Uchee Pines
Wildwood - Center for Health Evangelism
Agricultural Training
CARE/Cell Groups by Johnny Wong