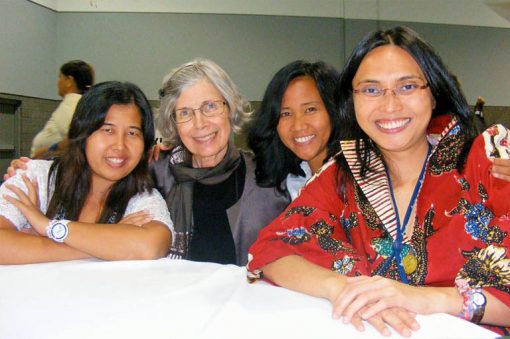 Have you ever been in a foreign country trying to get directions with no clue what the answer to your question was? Have you ever tried to order something edible in a restaurant that had no English menu? It can be extremely frustrating to not know the local language!

Newly arrived refugees and international students face that exact challenge. You can brighten some people's lives by helping them with one of their most significant needs—the ability to speak English.

There are plenty more people who have been around for awhile who might also really appreciate your help. 1 in 5 Americans speaks another language besides English at home. About half of these say they can't speak English well (around 28 million people said that to the US Census).

To help, you don't need to be an expert teacher. You don't even need to remember a thing about grammar. Just spend time talking with them. That's what they need more than anything else.

You can keep it informal, talking whenever you happen to have time, or set up an appointment to speak together once a week for an hour. 
Many people volunteer at an ESL (English as a Second Language) center. Often the center will provide training so you'll know just what to do. 
You could also start an ESL center at your church. First look at what others are doing and then find your niche, offering something no one else is. You'll especially want to make sure your class is in close walking distance for those you're trying to help as Terri Saelee found out. 

Here are some creative ideas where Christians are using English language teaching to be a huge blessing to internationals:

Movie Night with Jesus (English subtitles and discussion)

Women's lunchtime book club (American books and culture exchange)

International Women's Fellowship

Some Hints for Effective Communication: Speak simply, slowly, and clearly. Be careful to not speak down to your international friend and make her feel foolish. Listen to know what level of words she can understand. If she is fairly limited, think of how you would speak to a child who still has a small vocabulary. How would you speak to a four-year old or a six-year old? They would understand pretty much everything as long as you didn't use big words or confusing idioms and sayings. Speaking slowly helps a lot!

To find out if the person understands you, don't say, "Did you understand?" Out of politeness to teachers and authority figures, people of many cultures will say, "Yes," even if they don't. It's better to say, "I want to make sure I'm being helpful to you. Could you please tell me in your own words what you think I said?" Then gently add anything they missed.

For sure, it will never help to shout. Loudness never makes difficult words understood! Watch out for impatience and ask God for greater understanding. Once again, remember how difficult it was or would be for you to learn another language. Consider all the other challenges this person has faced in coming to your country. Encourage them whenever you can. "That sentence was so clear!" "You're making good progress!"

Your friend will never forget what you have done to help him speak English and succeed in his new life. This is the practical love of God lived out in a very real way he can see.

((Further Click: Best sites for ESL teaching materials that also include Biblical and gospel materials))???