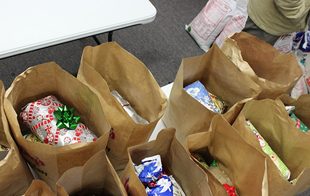 Invite all the members of your family to join you as you adopt a refugee family. Your job is to meet them at the airport and help them get settled into their new home and new life. Government and private organizations do much of the work but like to partner with families to make it work well. Together you can assist them with their various needs.

Just do an internet search for refugee resettlement in your community and find out how to help.
Learn how to adopt a refugee family from The Tucson Refuge Ministry "Welcome Family Partnership"
Learn how to foster refugee children.

You can also host an exchange student. Many families in places like China and Saudi Arabia pay to have their son or daughter stay with an English-speaking family in the USA or elsewhere for a year. It is a great learning opportunity for your family to have someone from another culture stay with you. It's also an amazing opportunity to witness to them through your family as you work, pray, play, and struggle as Christians.